Artwork
Welcome to the Imaginations in Art. I create colorful, intuitive abstract paintings which bring a feeling of energy and delight to your home or office. So come on in and browse all of the wall art and home decor. If you see a painting you like just click on it and it will take you to see all the exciting products available. You can also access products from the top left of the page. You can rest assured that you will be happy with your purchase as every purchase comes with a 30-day money-back guarantee.
Hello!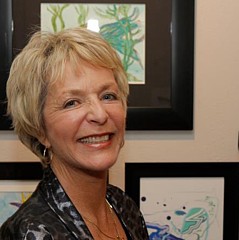 Thanks so much for stopping by to see my art. My artistic journey started over 14 years ago, taking many classes in different mediums, which led me to my current art practice. I have taught a few classes and have shown my art in galleries, winning some awards in juried shows. As you can tell, my practice includes works in many different mediums. I now use mainly acrylic paints, along with other items, to create mixed media art. Most of my art comes from my imagination and my deep love of color and textures. My art practice is Imaginations in Art, as that is where most of my inspiration comes from, my imagination. The art I create will complement and enhance any decor.

I hope you enjoy my work.

'Painting allows me to let my mind travel on new roads.